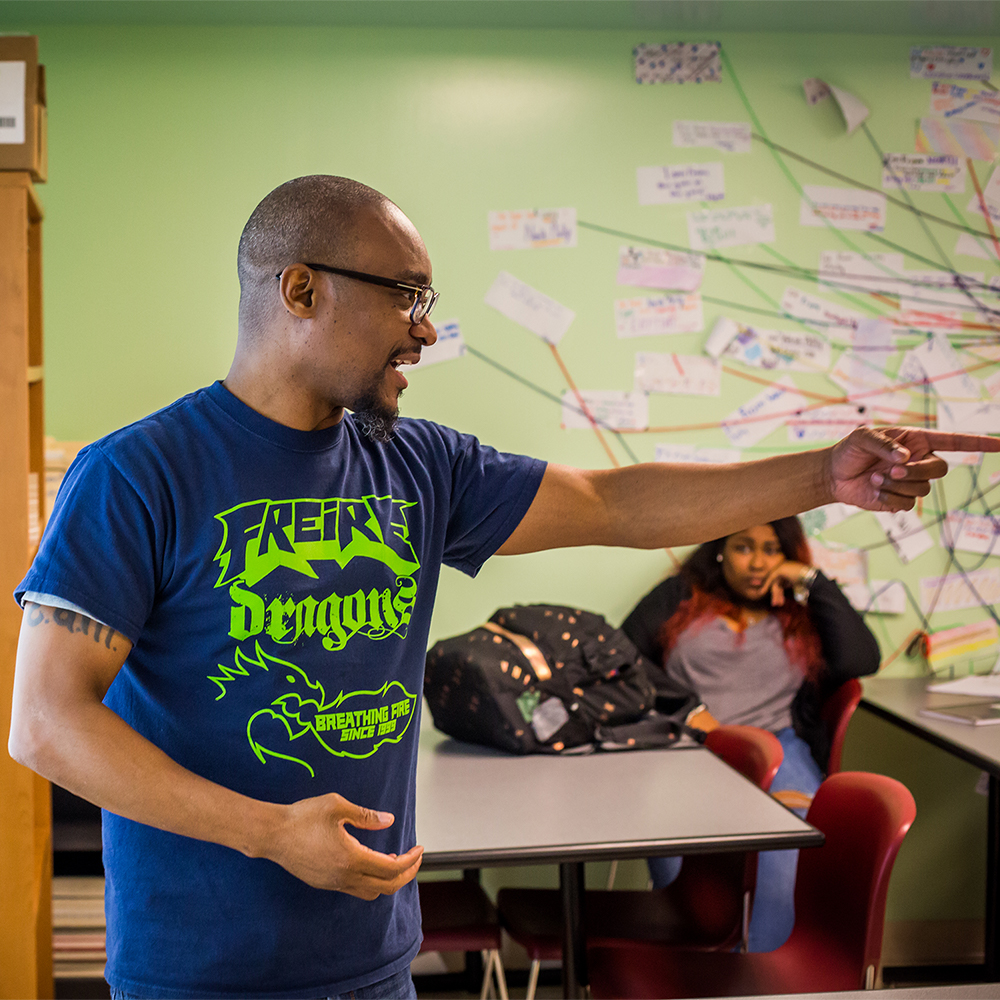 Job Openings
Freire Schools staff members are forward-thinking team players passionate about working with and unleashing the potential of urban youth. We seek candidates who value diversity, are highly motivated, and who will demand excellence from themselves and their students. Freire Schools offers an excellent salary and benefits package, a strong commitment to all staff as professionals invested in life-long learning, and the opportunity to develop your craft while transforming students' lives.

Below is a list of current job openings. Please click on an opening in the list to view details and apply. Click column headings to sort by position title or by campus.
If you have previously submitted or saved an application, please go to My Account to retrieve it.
| Title | Location |
| --- | --- |
| *Immediate Opening* Administrative Assistant | Wilmington, DE |
| *Immediate Opening* Certified School Nurse | Philadelphia (TECH Freire/Freire Charter) |
| *Immediate Opening* Development Coordinator | Network Office |
| *Immediate Opening* High School Health and Wellness Teacher | Philadelphia (TECH Freire/Freire Charter) |
| *Immediate Opening* High School Math Teacher | Wilmington, DE |
| *Immediate Opening* High School Special Education Teacher | Wilmington, DE |
| Academic Advisor/College Counselor {2021-2022} | Philadelphia (TECH Freire/Freire Charter) |
| Dean of Students {2021-2022} | Philadelphia (TECH Freire/Freire Charter) |
| High School Art Teacher {2021-2022} | Philadelphia (TECH Freire/Freire Charter) |
| High School English Teacher {2021-2022} | Philadelphia (TECH Freire/Freire Charter) |
| High School English Teacher {2021-2022} | Wilmington, DE |
| High School Health and Wellness Teacher {2021-2022} | Philadelphia (TECH Freire/Freire Charter) |
| High School Health and Wellness Teacher {2021-2022} | Wilmington, DE |
| High School Math Teacher {2021-2022} | Philadelphia (TECH Freire/Freire Charter) |
| High School Math Teacher {2021-2022} | Wilmington, DE |
| High School Science Teacher {2021-2022} | Philadelphia (TECH Freire/Freire Charter) |
| High School Science Teacher {2021-2022} | Wilmington, DE |
| High School Social Studies Teacher {2021-2022} | Philadelphia (TECH Freire/Freire Charter) |
| High School Social Studies Teacher {2021-2022} | Wilmington, DE |
| High School Spanish Teacher {2021-2022} | Philadelphia (TECH Freire/Freire Charter) |
| High School Spanish Teacher {2021-2022} | Wilmington, DE |
| High School Special Education Teacher {2021-2022} | Philadelphia (TECH Freire/Freire Charter) |
| High School Special Education Teacher {2021-2022} | Wilmington, DE |
| High School Special Education Teaching Resident {2021-2022} | Philadelphia (TECH Freire/Freire Charter) |
| Middle School ELA Teacher {2021-2022} | Philadelphia (TECH Freire/Freire Charter) |
| Middle School Math Teacher {2021-2022} | Philadelphia (TECH Freire/Freire Charter) |
| Middle School Science Teacher {2021-2022} | Philadelphia (TECH Freire/Freire Charter) |
| Middle School Social Studies Teacher {2021-2022} | Philadelphia (TECH Freire/Freire Charter) |
| Middle School Special Education Teacher {2021-2022} | Philadelphia (TECH Freire/Freire Charter) |